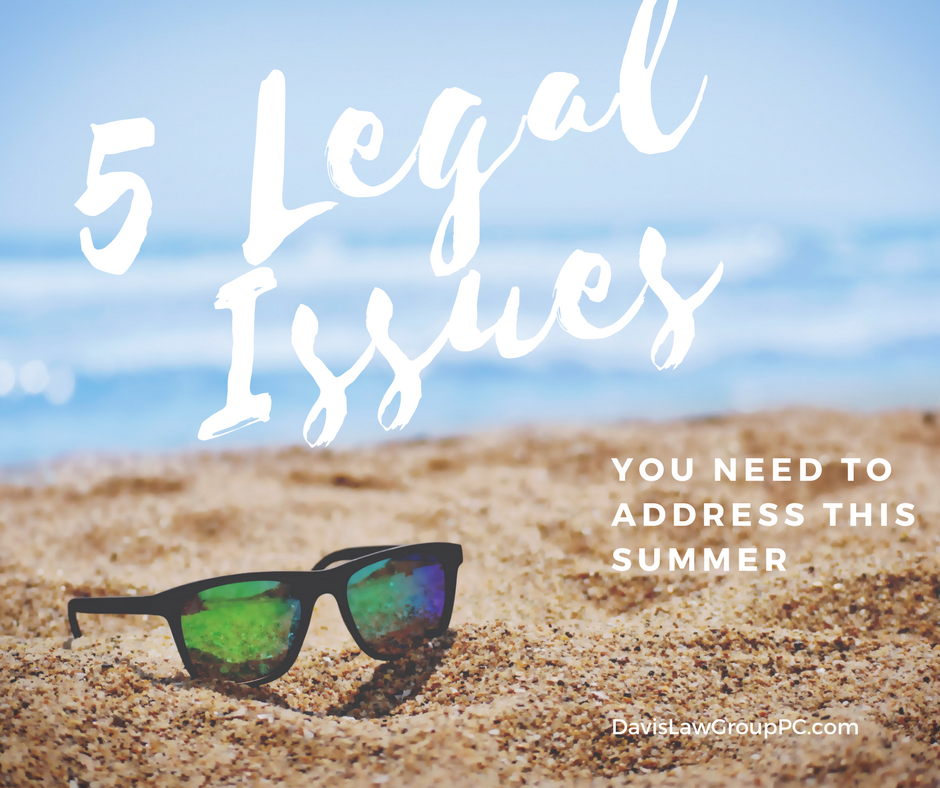 For most us, summer means it's time for FUN!
It's true that there are many fun activities to be had during the summer months including camps, vacations, pool parties and more. But before you head out the door, make sure to address these five legal issues. Once you do, you'll be able to really relax and enjoy the season.
Summer Camps
If your child is going to summer camp – whether that's a day camp or overnight camp, you'll be signing loads of waivers and medical forms. Make sure you read ALL of the fine print for these camps so you understand what they are responsible for and what kind of protection they have in place for your child. For instance, make sure the facility is insured and that all camp counselors and leaders have had some sort of background check. Make sure there is someone there who can tend to medical emergencies and who knows how to administer any drugs or treatments your child may need either regularly or in an emergency.
Family Vacations
Before you pack the car, board the plane or set sail for your summer vacation make sure that your personal legal matters have been taken care of and are in the hands of someone you trust. Do you have a power of attorney with your spouse, child or other trusted family member or friend? Do you have your Will, Trust or general Estate Plan up to date and accessible by the executor? If you have life insurance policies or any other important paperwork and information that may be needed if you were to be incapacitated, have you told a trusted person where to find that information? Having all these documents in order will ensure smooth sailing.
Pool Party
If you have a pool, trampoline, play set, camper or any other item on your property that someone could potentially injure themselves on, you should invest in an umbrella insurance policy. Umbrella insurance covers you in catastrophic situations (when damages exceed your normal policy's limit) or when you are being sued for personal injury. All it takes is one child falling off your swing set and injuring themselves on your property to be sued for liability. Before you invite the neighborhood over for a swim, make sure you're covered.
Child Care Providers
If you'll be employing someone to watch your children during the summer days while you're at work and they're out of school, you'll want to make sure you have a contract written up for both of you to sign. Contracts ensure that everyone is on the same page about responsibilities, requirements, payments, and more. You'll also want to talk to your accountant to make sure any privately hired child care worker is paid properly for tax purposes. You wouldn't leave your child at a daycare or summer camp without signing some kind of contract or forms, so don't allow a person into your home to watch your children without the same precautions.
Hurricane Season
Summer is, unfortunately, also the height of hurricane season in southeast Virginia and all along the East Coast. Prior to hurricane season, make sure that you are prepared with appropriate supplies, but also make sure that your important legal documents are kept somewhere safe. Waterproof and fireproof boxes are great places to store important documents. You should also keep digital files of all important legal document backed up onto an external hard drive, which may also be stored in the weatherproof box. Saving your documents on your computer won't matter if your computer is fried by lightening or damaged with water. You may also choose to store your document on a secure cloud server so they are accessible from anywhere. Just make sure to choose a well-known, verified service for your own security.