Contact info
If you have questions or need assistance please call us, send us an email, or send us a message via the form below.

Wynngate Business Park Greenbrier
516 Baylor Court
Chesapeake, VA 23320
Telephone:
757.420.7722
FAX: (757) 424-3293
E-mail:
Law@DLGVA.com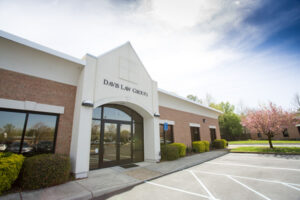 Directions
(From I-64)
From either I-64W or I-64E, take exit 289A-289B for Greenbrier Parkway
Take Greenbrier Parkway SOUTH exit (which will put you on Greenbrier heading south)
Proceed on Greenbrier Parkway approximately 2.5 miles until you see Chesapeake City Park on your right
Turn left at Greenbrier Road directly in front of Greenbrier Community Church
Make an immediate right onto the access road toward Baylor Court
Take the 1st left onto Baylor Court
Proceed straight to the back of the office park (516 Baylor Court)
Contact form
By clicking the submit button below you acknowledge the following:The use of the Internet or this form for communication with Davis Law Group or any individual member of Davis Law Group does not establish an attorney-client relationship. Confidential or time-sensitive information should not be sent through this form.