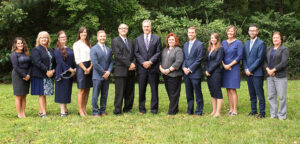 Davis Law Group, P.C. was founded in 1989 as Davis & Associates, P.C. by Douglas W. Davis. He started the firm after a successful career with a national constitutional litigation firm. His original goals of providing excellent, customer-oriented legal services have grown over time to the present day Davis Law Group, P.C.
With more than 25 years serving business owners, commercial clients and families, with local as well as national and international issues, Davis Law Group, P.C. has developed comprehensive legal expertise that enables us to ensure you receive the best possible counsel and service. We work closely with our commercial and individual clients to match their needs with in-house specialty areas to ensure we bring the right resources to every client need.
We are proud of our growth and even more proud of how we have helped our clients experience peace of mind and success in their endeavors. We are aggressive in representing their interests and strive to make each one feel like they are our only client.
We are located in Wynngate Business Park in the Greenbrier area of Chesapeake, Virginia and serve the entire Hampton Roads area including Norfolk, Virginia Beach, Hampton, Newport News, Portsmouth, Suffolk, and Williamsburg. Regional clients include businesses and individuals throughout the Commonwealth of Virginia.
Practice Areas
We represent our business clients by taking a personal interest in them and in their endeavors. Our approach requires building strong relationships with business owners, executives, their companies and even their families.
At Davis Law Group, P.C. we understand that buying and selling real estate can be one of the most stressful events our clients will ever experience. Hampton Roads is a growing community with an ever-changing real estate market.
Our Estate and Trust practice area is based on the understanding that most people want to ensure what they have built during their lifetime will be efficiently transferred to those they designate without interference, unnecessary taxes, court costs, or litigation.
At DLG, our Family Legacy Process© doesn't stop after you set up your estate planning documents. We work with families to ensure that the assets you have worked a lifetime to acquire are protected from the rising cost of care.
Probate & Trust Administration
Losing a loved one is difficult. The prospect of handling the estate at such a time is often overwhelming. Our sensitive and caring teams helps grieving families navigate the complex and often confusing process of administrating an estate or handling probate.
Over the past several years we have helped a number of families work through the complexities of domestic and international adoption in virtually every scenario you can imagine.
Family Law & Collaborative Practice
We have extensive experience in representing individuals who find themselves in the middle of broken relationships, and we are effective advocates when the time comes to protect their interests.
Representing a client involved in business disputes, contract disputes, real estate cases, including mediation, arbitration, or civil litigation in court, is a big responsibility — one we don't take lightly.
Church and non-profit law requires a special understanding of the issues and challenges that face non-profit and religious institutions. We have extensive experience working with churches, church administrators, religious groups and non-profit organizations.
Few relationships impact our daily lives as much as the relationships we have at our workplaces.  At Davis Law Group, we are proud of our ability to offer solutions to the complexities that arise in the employer-employee relationship.
Our Team