It's the season of resolutions and goal setting!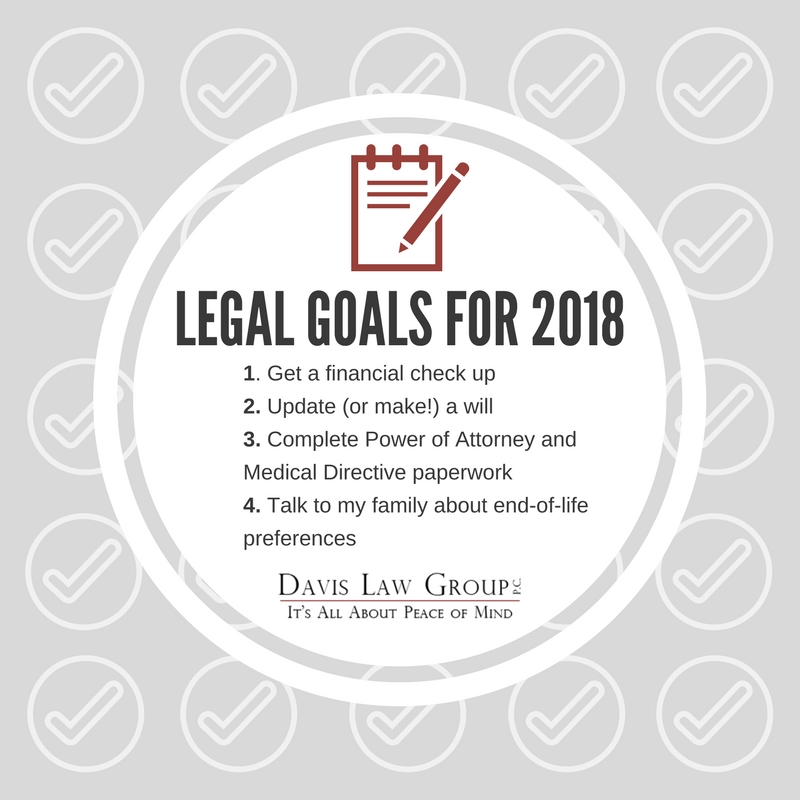 As you consider what you'd like to accomplish this year, we encourage you to think about your legal state of affairs – especially when it comes to your long-term plans. Whether you're young or "mature" – it's beneficial for you and your family to have a plan in place that protects your assets, your loved ones and your wishes.
A few realistic legal goals for 2018 include:
Getting a financial check up
Our clients benefit from having a financial advisor who can assist them with investments as well as savings and long-term planning. A good financial advisor and attorney make a great team in helping protect what you've worked so hard for.
Update (or make) a will
Wills are not one-time transactions. They need to be reviewed and updated periodically for new assets, new relationships, business ventures, etc. If you don't have a will at all, then there's no time like the present! Not having a will in place when you pass can become a huge burden on your family. In either case, make 2018 the year you tackle The Will.
Complete Your Power of Attorney and Medical Directive Paperwork
Many people believe that a will covers anything and everything that should happen to them. Not so. A will simply directs a judge on where things should go during probate. In order to ensure that your medical preferences or end-of-life decisions are made according to your will should you become incapacitated, you will need both a Power of Attorney (POA) and a Medical Directive (often called Medical Power of Attorney). You may name the same person for both positions, or different people. A POA will generally make decisions about your finances in your absent or incapacitation, while a MPOA will make decisions about your health care. Carefully consider who the best people for these jobs may be – it very well may be two different people equipped for the two very different demands.
Talk to Your Family About End of Life Preferences
As long as you are getting your will, Power of Attorney and Medical Directive in order, you may as well have a conversation with your family about what your wishes are. We know this isn't the most fun conversation you can have around the dinner table, but it is essential and once it's over, you won't have to do it again! Tell your spouse, children or other loved ones about the kind of treatments or procedures you would or would not be willing to undergo were you medically incapacitated. You should also discuss your estate plan and will to ensure everyone is on the same page regarding where things should go or how assets should be handled. Again, having this conversation in advance will save your family much head and heartache in the long run.