When you're going through a divorce, life can be hectic and overwhelming. On top of personal situations, you must also deal with the legalities that come along with it.
You'll quickly learn that there are many deadlines throughout the divorce process, and having a good understanding of this timeline can help reduce stress and manage your expectations and schedule.  
In an uncontested divorce, one of the first steps in the process is the preparation of the Property Settlement Agreement (PSA). A contested divorce begins differently. For more information on contested divorce, see our previous blog post on contested vs. uncontested divorces.  The PSA is settled through both parties' attorneys who will negotiate back and forth on their behalf. We have described this process in more detail in a previous blog, but in short the PSA settles several issues regarding temporary custody agreements, finances and property. The PSA also sets your legal separation date. This date is important because it is the beginning of the divorce timeline.
In Virginia, in order to file for divorce with the courts, you must be separated for one year if you have shared minor children. If there are no minor children, then you must be separated for six months. Separated as defined by the law is "living separate and apart without any cohabitation and without interruption." This usually means that you have a separate address from your spouse.
Once the required separation time has passed, and the PSA has been finalized, one of the two parties can file a complaint for divorce with the courts. The party who files a Complaint becomes the Plaintiff, and the other party becomes the Defendant, who must be officially served with the Complaint.
Upon the date the Complaint is served, the Defendant has 21 days to file either an Answer, a Waiver, an Acceptance of Service, or endorse the proposed final decree. Each of these options should be discussed with a divorce attorney, who will send an official response on behalf of the Defendant.
Once the 21 days have passed (or the Defendant files a Waiver or Acceptance of Service), you can proceed with filing the final decree of divorce and the accompanying PSA, along with any other required documents. At that point, both parties must wait until the court processes and enters everything into the records. When everything has been processed through the courts you will receive the entered Final Decree of Divorce.
To help break down the deadlines, we've created this timeline: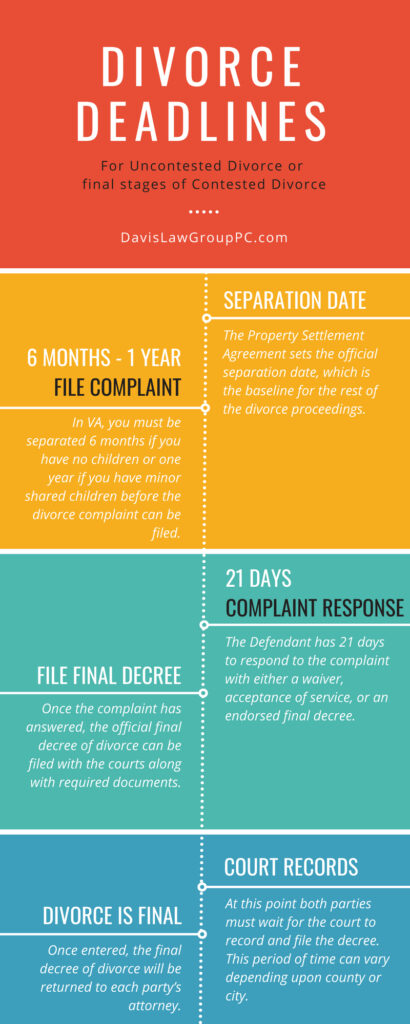 Please note that this timeline describes the Uncontested Divorce Process or the end of the Contested Divorce Process. In a full Litigated Contested Divorce, there are many other deadlines and time frames that must be upheld, but your attorney can advise of those if you choose to go the contested route.