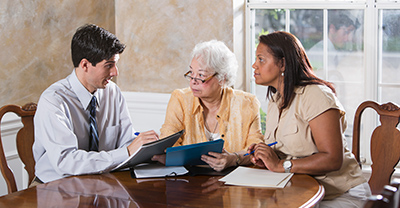 Elder Law – Guiding You and Your Family through the Complexities of Aging
At DLG, our Family Legacy Process© doesn't stop after you set up your estate planning documents. We work with families to ensure that the assets you have worked a lifetime to acquire are protected from the rising cost of care.
The average cost for nursing home care in the Hampton Roads region is about $8,500.00 per month. This cost continues to increase on an annual basis. When we help you plan to protect your assets, we provide a wealth of information and introduce creative options so together we are able to choose the best way to meet your personal objectives. Most of all, we seek to promote peace of mind by guiding you and your family through the complexities of aging.
For this reason, we created The Family Protection Process© as our unique process designed to provide the legal strategies and solutions necessary to protect your assets from the rising cost of care. We believe The Family Protection Process©, in conjunction with the Family Legacy Process©, will effectively serve you as we work together to ensure the preservation of your family values and complete your objectives for the preservation of personal and family interests.
The Elder Law attorneys at DLG will assist you in Virginia with:
Wills which have Medicaid protection
Trusts that protect assets from Medicaid and other government programs
Guardianships
Medicaid qualification
Beneficiary Designations
Medical and Financial Powers of Attorney
Advance Directives
Property Ownership
Gifting
Asset protection